Many startup owners fall in to this trap. Recently I too have been penny wise & pound foolish and lost more than $1000. Today I want to share the story with you.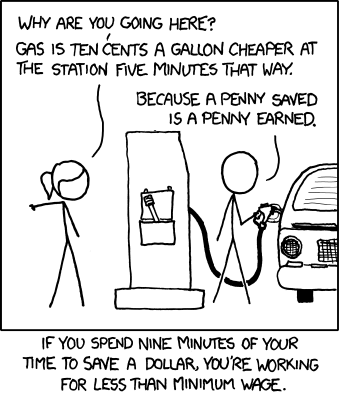 [source: XKCD]
Background:
Recently, our main business website (chandoo.org) had to be migrated to a new web server, to cope-up with all the traffic we were getting. Being a geek turned in to startup owner, I thought, "whats the big deal, I can learn how to migrate the site and then do it myself".
So I set out to migrate the site myself.
Big mistake!
What happened next?
Since I was migrating the site from a shared hosting plan to a VPS, there was quite a bit of work to do. Thankfully, I chose Knownhost, one of the best in the industry when it comes to VPS and dedicated server hosting.
I did all the steps required for migrating the site. It took me more than 4 hours to learn all the nitty-gritties of site migration and then another 4 hours to actually move it.
Once everything is done, I pointed my site to the new address. And Bam, our site promptly went down.
Since down-time is to be expected during site moves, I waited for 12 hours hoping to see the site alive again.
But it never came back up. Then I contacted the KnownHost support team. They were very helpful, but since it is pretty common for websites to go offline for about 24-72 hours during site-moves, they suggested that I wait.
I waited 12 more hours.
Since the move happened during weekdays, we were loosing a lot of sales, ad-sense revenue, affiliate commissions during this down-time.
But even after 36 hours, my site was still down. It was down from many locations around the world. This suggested that something may have gone wrong. Because, even though site migrations (DNS changes) can take up to 24-72 hours to propagate around the world, usually, the site loads in some places but not other. But in my case, it was down everywhere. (Note: I used the Internet Supervision to check this.)
The strange thing is I could access our site by going to its IP address, but if I use the name – chandoo.org, it would not load. It suggested that there is something wrong with the way I set up my site's DNS.
After some more panicking and learning, I signed up for an alternative DNS provider and used their servers to point my site to the IP address. And with in hours my site started loading.
Then, I contacted the folks at KnownHost and explained the problem to them. They were kind enough to fix it for me by modifying the DNS settings. Finally, now, our site loads fine from everywhere.
The Damage
Direct Losses:
Total downtime- 40hours
Loss of Sales: Based on the run-rate of sales on weekdays in Jan, I estimate the loss at $1000.
(Note: not all of this is lost as some people who wanted to purchase returned to it a day later and bought)
Loss of Ad-sense Revenues: At least $300
Loss of other Revenues: $50
Total revenue lost (direct): $1350
In-direct Losses:
Not all the loss is direct. Due to the down-time, we may have turned down few dozens of prospects (new visitors who would join our news-letter or get hooked to our site).
Also, I spent 12 hours or so learning and doing the migration myself.
If I use my hourly consulting rate ($100), that is $1200 loss of time.
But, I know that my time is worth so much more. If go with Jason's logic in Valuing your time, those 12 hours are worth more than $10,000.
So there you go.
The Gains
Not all was lost in this exercise. To begin with, I have learned some valuable tricks on how to migrate the site.
But the most important thing is, I have saved about $300 by not hiring someone to do this migration for me. Thus I became penny wise & pound foolish.
Reasoning behind $300 savings:
I can see that many web administrators & wordpress experts charge about $15 per hour on Odesk. So assuming, I hire someone and they spend 20 hours to migrate my site, I would have paid them $300.
Lesson Learned.
Are you being penny wise & pound foolish with your startup?
Many times, running a startup involves making decisions without thinking about the big-picture. Often we think, "why hire someone to do it, lets just do it ourselves." This argument holds good if you have nothing else to do and there is no down-side to it. But, in many cases, there will be an impact on your revenues, reputation, profits or personal mood.
Do you have any examples of being penny wise and pound foolish with your startup? Please share them using comments.
Related: My thoughts on hiring thru ODesk